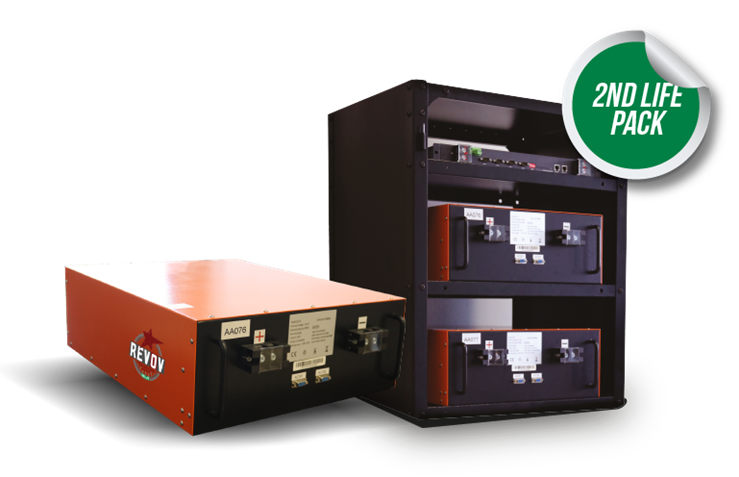 R9 2nd LiFe 51.2V - 200Ah 10.24kWh

The 2nd LiFe 51.2V energy storage system is a Lithium Iron Phosphate based system utilising 2nd LiFe Electric Vehicle batteries



to provide backup, primary and secondary power in Residential, Commercial, Industrial and Utility applications where daily
cycling of the system is required.
The system offers unrivaled value in terms of Life Cycle cost and Capital outlay, with class leading energy density, life time,
cycle life and high temperature performance
APPLICATION
• Telecom Base Stations
• Data Centres
• Residential Backup
• Solar, Wind and Hybrid Storage
• Peak Shaving
• Off-Grid Living and Working
COMMUNICATION
• Communication interface (RS485, Modbus)
PRODUCT SPECIFICATION
Nominal Specifications
Voltage Window[V]: 51.2 (25.6 x 2) (In Series).

Capacity [Ah]: 200.

Energy [kWh]: 10.240.

Storage Charge: every 6 months.
Electrical Specifications
Voltage window [V]: 40 - 60.

Float Charge Voltage [V]: 54.4.

Boost Charge Voltage [V]: 55.5.

Bulk Charge Voltage[V]: 54.4.

Battery Disconnect[V]: 54.4.

Recharge Time (Hours): 2 @ 0.5°C

Nominal Voltage: 51.2.
BATTERY MANAGEMENT SYSTEM FUNCTION
• Charge and Discharge Current
• Hardware protection
• Discharge control
• Charge control
• Cell voltage detect
• Cell balance
• Temperature detect
• Communication(RS485)
• PACK voltage detect
• Fault alarm
• Cell sample lines
• Short circuit protection
• Can identify large capacitance
• Capacity of the display
• Temperature detect
• Communication(RS485)
FEATURES
Lithium Iron Phosphate (LiFePO4)
Supports parallel connection
Lifetime exceeds 10 years at 25 C
External BMS (24 or 48V)
Lighter than competing Lead or
Gel alternatives
No active cooling required
ADVANTAGES
Unmatched Cost per Cycle
Best Safety Record of All
Lithium Chemistries
Good High Temperature
Performance
Remote Management Capabilities
Operating Conditions
Lifetime @ 25°C: 10+ years.

Cycle life [90% DOD @ 25°C] 3500 Cycles

Operating temperature: Charge :0~+50°C; / Discharge: -20~+55°C.

Transport regulation compliance: UN3840.

Protection Class: IP20.

Warranty: 10yrs or 3500 cycles at 1 cycle per day (whichever arrives first).
Please note price includes Battery, cables and BMS only.
Cabinets can be purchased separately